Taking the Plunge: Have Fun in the Sun with Water Sports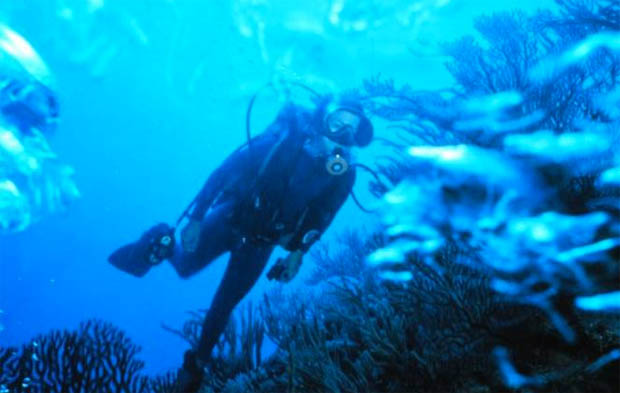 As a young girl, Ashley Dixon was the poster child for scuba diving. Raised aboard a sailboat in the Virgin Islands where her father was building a resort hotel, Dixon was only seven when she started diving. The dive shop at the newly rebuilt resort used Dixon to demonstrate to the tourists that scuba diving was a cakewalk. "In the '70s," laughs Dixon, "people didn't think of diving as recreation – they thought of it as scary. I was this little blonde girl and I would swim back and forth across the bottom of the pool several times. Afterwards, the resort would sign everyone up for classes."
Now a Certified Dive Master and Dive Instructor, Dixon says she has never felt that her size has affected her sports ability. "The only time I think of myself as large-sized is when I see myself in a photograph." When she was training for her Dive Master certification, an advanced program designed to gain in-depth knowledge of underwater navigation and deep diving, Dixon was in a class with six men. "Even being large-sized," she recalls, "I was still in better shape than them! I could out swim all of them."
Scuba diving is fairly straightforward, but training and certification are required. There are two parts to a scuba diving certification course, the "theory," which is taught by an instructor in a classroom (or even via computer), and the "Open Dive" classes, which are usually held in a swimming pool. Typically, five Open Dive classes are required to become a Certified Diver. You can usually locate a training course through your local community college, an adult education program or through a dive shop.
For the casual diver who just wants to check out the underwater scene while on vacation or at a resort, the National Association of Underwater Instructors (NAUI) has joined with Scuba Schools International (SSI) to develop two officially recognized programs called "Try Scuba" and "Passport." These two short courses allow the novice diver to enjoy actual scuba diving and gain experience while under the supervision of a Dive Leader. The two programs are being widely marketed to adventurous non-divers whose schedules may not allow time for a full certification course. "Try Scuba" and "Passport" get you into the water, and into the action – fast! Both certifications are transferable to other dive sites and resorts. The "Passport" can even be registered on the NAUI or SSI websites.
Dixon feels that plus size women will find diving especially enjoyable. "When you are scuba diving, you learn how to become neutrally buoyant so you are really weightless in the water – you are one with the water. It is the most incredible feeling. There is no pressure on your body anywhere and you're seeing all of these incredible sea creatures underneath the water."
Dixon's most memorable dive was when she and Julie, her best friend and fellow instructor, led a seven-day scuba trip for Dixon's mother and three of her mother's best friends to the Sea of Cortez in Baja, Mexico. "The water in the Sea of Cortez is very warm, with a mix of tropical fish and Pacific Ocean marine life. The scuba trip was all women – we had a blast! One day while diving, we ended up in the water with a whole bunch of sea lions, mostly mothers and their babies. The young ones were very playful and were swimming around us and in and out and through our legs. It was awesome."
While touring the Sea of Cortez, Dixon's group got a chance to try another exciting water adventure – sea kayaking – a sport that has now exceeded canoeing in popularity. Sea kayaks are bonded plastic, one-piece units shaped like canoes, with seating "on top" rather than "inside." Especially suited to the larger woman, sea kayaks are very wide and stable and can be used on both ocean and lake. Most sea kayaks contain watertight compartments with enough room to stow gear for either a day trip or full overnight camping. "They are very comfortable, even on long journeys" comments Dixon. " The design is so sleek and you feel like you are going so fast that you can just feel the water part before you."
While certification isn't required for sea kayaking, a little instruction ensures a happier, safer journey. Most resorts and paddle sport rental companies will give instruction on how to handle a kayak. The Trade Association of Paddle Sports (TAPS) recommends that beginners take a basic course which covers paddling skills, signaling methods, entering and exiting your kayak, how to carry and transport a kayak, basic safety and rescue skills, managing waves and basic navigation. TAPS also maintains a website and phone number where the sports enthusiast can access paddle sport products, businesses, services and events in their local area as well as recent developments in the sport of paddling in North America.
The beauty of kayaking is that you don't have to be in great shape to get right out on the water and begin enjoying yourself, but the sport is a great way to build upper body strength. Sea kayaks can be either rented or purchased and, depending on the area, you may be required to wear a life jacket while on the water. Adds Dixon, "I encourage everyone to try sea kayaking. I remember one trip when I got up at six in the morning and the water was calm and glassy smooth. I kayaked out into the water and ended up right in the middle of hundreds and hundreds of migrating dolphins. I just sat there, surrounded by dolphins, watching the sun come up. It was beautiful."
How about a water sport where you just show up? No equipment to worry with, no lessons required, just fun and excitement. Whitewater rafting may be just the sport for you. Whitewater rafters generally join an organized group for either a day trip or overnight trip led by a certified guide. Rafts vary in size, most seating 8-12 thrill seekers. Even completely outfitted, they remain very stable. Begin your adventure by contacting a commercial rafting company via the Web, phone book or guidebook. When you find a tour that interests you and matches your experience, book your trip. You will be told where to meet the group and what to bring. After that, all you have to do is get ready for a good time! You may want to time your trip to the seasons to get the kind of ride you want. Spring may have colder water, but great rapids. Summer waters tend to be warmer, but may have less whitewater, depending on the location. Remember that part of the fun is getting bounced into the water!
American Whitewater is a national non-profit organization with a membership of 8,000 whitewater enthusiasts, organized to help people enjoy whitewater resources safely. AW [VGC1]organizes sporting events, such as Whitewater Rodeos and maintains a complete national inventory of whitewater rivers. AW was one of the first to establish a uniform national ranking system to measure whitewater levels of difficulty. This kind of safety information keeps eager rafters correctly matched to their experience and comfort level.
Marianne MacFarlane, a plus-size whitewater rafting enthusiast from Maine, got her start in the sport when she joined a group of women from work who had planned a trip. She loved the experience so much that she's been back 25 times! When asked what she did to get in shape, MacFarlane says she didn't worry about it. "All you have to be able to do is handle the paddle, which the average person can do," she reports. "Large-sized women have good buoyancy – we take to water naturally." Nonetheless, MacFarlane confesses, "When I first started, I was nervous about falling out of the raft. How were they going to get me back in? Then we hit some rough rapids and I accidentally flipped out of the boat. As I popped up out of the water, I grabbed the side of the raft. While I pushed down on the raft to get in, the guides grabbed the back of my life jacket and just yanked me in like it was nothing. It was so easy! After that, I relaxed."
Melanie Rochat's experience with whitewater rafting echoes MacFarlane's. Rochat, who has years of experience as a Whitewater Rafting Guide, finds herself gravitating lately towards calmer, more peaceful sports such as canoeing. Says Rochat, "All you need in the way of supplies is your canoe, your paddle, and an outfit of Quick-dry nylon shorts and a tank top." Rochat explains that there are basically two kinds of canoes: lake canoes and river canoes. Lake canoes have a ridge (keel) down the middle of the boat to provide stability and keep the canoe traveling straight. River canoes have a more rounded bottom to help with turning and maneuverability. Rochat claims that the plus-size woman can easily enjoy canoeing even if she isn't in great physical shape. She does, however, have to get a canoe that handles not only her weight, but also the weight of her gear. Canoes come in different sizes and capacities designed for short day trips on up through long distance camping trips. Rochat especially enjoys flatwater canoeing in slow-moving rivers throughout the Carolinas and Georgia. "I like the solitude. You can still be close to the city, but when you are out on the river it's like you've gone 200 years back in time, it is so peaceful."
One of Rochat's most memorable canoe trips was an autumn trip down the Black River. "The trees dropped their leaves into the river, coloring the water black with their tannins. The water was clean and flowing, but was literally black, like brewed tea. I saw turtles sunning themselves on logs and flocks of white egrets swooping low towards the water at sunset. I even saw alligators!" Reflects Rochat, "While I am canoeing, the world stops going by at 50 miles per hour."
All of the women profiled in this article love the water and excel at a variety of water sports. Not surprisingly, Ashley Dixon is also an avid sailor. She enjoys sailing so much that she is currently in preparation to embark on a two-year sailing cruise with her family, her best friend Julie and Julie's family. "The experience will be great for everyone," says Dixon, "especially the children. It will be good for them to see how the rest of the world lives so that when they come home they will really appreciate what they have." The group plans to travel from San Carlos, Mexico through the Panama Canal and on towards the Caribbean. They plan on waiting out the storm season in the San Blas Islands along the Panamanian coast, then traveling along the Venezuelan coast to Barbados and St. Thomas, where Dixon grew up.
Dixon became interested in sailing while working as part of the crew on charter sailboats during her scuba instructor years. Having purchased a 48′ sailboat, which they christened "Echelon," the family spent a month practice sailing under the guidance of an experienced captain and certified sailing instructor. They then spent three more years "learning the ropes" in preparation for the time when they would set sail on their two-year cruise.
If you long to hear the snap of a sail, lessons are available through several venues, including the American Sailing Association (ASA). ASA offers referrals to certified instructors and local training courses.
Dixon sums up her love of the water by saying, "It's a great place for a large woman. The feeling of weightlessness is a feeling we don't get on land very often. My mission is to help bring awareness of the importance of the oceans and the meaninglessness of size when it comes to life, adventure and happiness!" Melanie Rochat concurs, "We all feel, 'I can't do it, I'm overweight.' But in water sports, size just doesn't matter. In many ways larger women do better in the water, where we are more buoyant and better insulated against changes in water temperature."
Scuba diving, sea kayaking, rafting, canoeing and sailing – so many different ways to enjoy the oceans, rivers and lakes. Water sports can be fast and thrilling or gentle and peaceful – it's our choice. Perhaps in the water, we can feel more truly at home. Buoyant and graceful, we are particularly well suited to this exotic environment.