Christine Alt: Not the Girl Next Door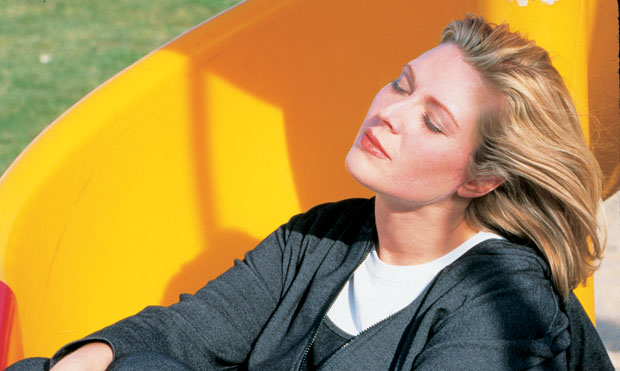 Walking into the restaurant for her interview, every molecule of Christine Alt's being exudes "supermodel." As she approaches, her incredibly blue eyes twinkle, her white teeth sparkle, and her blond hair, casually pulled back with butterfly clips, shines. Alt glides into the room, in graceful command of her glorious 5'10", size 16 body, which is today garbed in an elegantly simple Toosoodo dress. As hard as it may be to believe, she is even more beautiful in person than she is on the printed page.
For the next three hours, this writer searches (discreetly, she hopes) for some – any – slight imperfection in Christine Alt's appearance, demeanor or character, to no avail. Alt shatters every stereotype about models: she is sincere, intelligent, compassionate, witty, warm and anything but narcissistic.
Beyond those qualities, Alt is a woman on a mission. She immediately launches into a discussion of what is wrong with plus-size fashions. Given that she's been in the industry for 18 years, Alt has had plenty of time to come up with her list of pet peeves. For one thing, she doesn't care for the way most plus-size clothes are cut. "I can go to a Missy department if they carry a size 16. If (the outfit's) too tight, I go up to the plus-size department and try on the same garment in the same material and in the same color. But they cut it differently. Why would they think that because you're plus-size, you're straight up and down, you have no waist and you have no shape? (They should) cut it the same, just cut it bigger."
In Alt's scenario, there wouldn't be a plus-size department at all. "It would be nice to have a size 2 next to a size 28, all in the same area. Why can't you have a rack of Jones New York that has all the sizes on it? Why do we have to go to a different floor and have different dressing rooms and different cuts of clothes?"
She also doesn't condone the way many plus-size fashions are marketed. "I think you should actually fit the clothes to be a plus-size model," she says emphatically. "It bothers me that clients will book somebody who's a size 8 for a plus-size catalog." Alt wants this to change, but is cognizant of the fact that change doesn't happen overnight. "A lot of times (visitors to my website) think that I'm not even big enough to be used in a catalog," Alt muses, "but it's taken us 15 or 20 years to get plus-size women in catalogs. Even if it takes another 10 or 15 years to get bigger women in there, at least we're moving in the right direction."
Alt's complaints, though, are far from overbearing or shrill. She's a woman who speaks with authority and who speaks from her heart. And Alt's vision of the plus-size fashion industry is crystal clear, as is the role she wants to play in transforming it.
In between her gigs modeling for, among others Ulla Popken, Carol Little II and August Max Woman, Alt keeps her fingers on the pulse of the plus-size woman through dozens of personal appearances, including those at Nordstrom flagship stores in Seattle, Portland, and San Diego. What she's learned has helped shape her ultimate goals and future plans, which revolve around improving the lot of the plus-size community. "Whether it's helping (women) with better fashions and better design for plus-size, or whether it's helping them achieve their goals and not be ostracized and criticized because they're plus-size, it will be something that will help the plus-size population," Alt says with passion. "We are the majority of the population, not the minority, and I don't feel that we deserve to be treated like minorities and made to feel poorly."
The Model
Christine Alt didn't arrive at this conclusion overnight. In fact, it's been a long – and sometimes painful – road to self-acceptance. Alt began modeling the summer after her high school graduation, with the encouragement of her father, xxxxx, and following in the footsteps of her supermodel sister, Carol Alt. Christine thought modeling would be a stop-gap while she decided what courses she wanted to take in college. "Eighteen summers later," she says with a laugh, "I'm still doing it!"
Alt began as, in her words, a "straight size." She was a size 10-12, and under pressure from the modeling agencies and clients, got down to a size 4. In the process, however, she developed an eating disorder, which led her to withdraw from the fashion world and move to Texas. At the end of her recovery, Alt found herself at a size 14, and after losing weight for her wedding seven and a half years ago ("not consciously; it just happened," she stresses), became a size 16. "I would probably still be a size 10-12, if I never went on that initial diet," she says convincingly. "I think that half the women in this world who are plus-size would not be if they never went on a diet."
To Alt, making the leap to plus-size modeling felt like coming home. "When I stopped (modeling) between straight- and plus-size, I felt lost," she says in a subdued voice. When she resumed her modeling career, "I had a friend who said to me, 'I've never seen you look so happy,' and it was that I missed it. But I couldn't stay a size 4. It just wasn't me."
But just because she was happy doesn't mean that the path was strewn with roses and littered with accolades. "Fifteen years ago, there was a stereotype about plus-size models," Alt says. "We were ostracized and treated differently than straight-size." Not only were photographers unwilling to shoot plus-size models, but Alt wasn't always welcomed by her thinner counterparts. "They figured, 'I have to keep my figure to work in this industry, why can you let yours go and still work?'"
The fashion industry has come a long way since those days, and now plus-size modeling is on par with straight-size. Over time, photographers finally realized the money that was passing them by with the burgeoning plus-size industry, and, according to Alt, "A lot of the straight-size models got older, got heavier or had children, and they entered the plus-size field."
Luck, Professionalism and Hard Work
Alt, too, has come a long way in the modeling world, and is a sturdy perennial among annuals that often explode onto the fashion scene and disappear after their first bloom. She attributes her longevity to luck, professionalism and hard work.
Alt's luck involved more than being born with good cheekbones; she comes from a family of models. Her grandmother was a milliner's model in the roaring '20s and her mother was a showroom model on New York's Seventh Avenue in the '50s. And, while the luck of having supermodel Carol Alt for a sister certainly opened some doors for Christine, it was she who walked through, and who has used the wedges of professionalism and hard work to keep those doors open over the last 18 years.
According to Alt, professionalism means doing the job, keeping the client happy and never copping an attitude. She says, "Photographers and clients look toward the model to set the pace for the day. I describe it, as like being the hostess of a party for eight to ten hours. You have to come in happy and peppy and bursting with love."
It's not always a cakewalk. Alt describes what this writer would term "photo shoot from hell" when she relates her experience on a ten day photo shoot in Miami. The clients wanted her to join them for dinner at 8:00 p.m., even though her call time was 4:00 a.m. each morning for hair and makeup. They didn't want to spend money on a Winnebago, which meant, she says, "We had to get dressed and undressed on the street. This guy was driving by, stopped at the light, and tried to take a picture of us changing our clothes." Searching for the sun, the crew also drove to Ft. Lauderdale. Connect the dots: no Winnebago means no bathroom. "That was definitely the hardest job (I've had)," she says, but then dismisses it with a wave of her hand. "Fortunately, after a couple of years of modeling, you become immune to things like that."
A modeling career such as Alt's involves more than getting into the makeup chair on time. "This is a business," she says authoritatively. "Days that I am not shooting in front of the camera, I am home working." The at-home work involves everything from writing proposals to answering email from her website (www.christinealt.com) to planning future projects with her manager. "People say, 'Oh, you had off today.' No, I didn't. Lots of models sit home and don't do anything and (therefore) don't work. Plan your next (composite) card. Make up a mailing list. Because it's not going to come to you. You are a business."
Christine Alt, Inc. is really a partnership of four people: Alt, her husband Steven (whose last name she declines to state), her manager Thomas Dover, and his wife, plus-size model Angela Bormann. "There are four of us involved in this career," muses Alt. She further explains that within her team, there's a corporate component (husband Steven is an architectural designer for a major U.S. bank); a legal component (manager Dover is an attorney); an emotional component, which Bormann provides; and an artistic component, which Alt brings to the table. "We have four great personalities and opinions coming into what we are trying to create," she states. "And we are trying to create a more positive atmosphere and lifestyle for plus-size women."
Beyond the partnership, the four are also close friends. Says Alt, when Angela and Thomas are in town, they always stay with us."
Kids and Animals
When she's not smiling at the camera lens or strategizing about her next career move, Alt can be found at the home on Long Island that she shares with her husband and their three "kids," Woody, Max and Simon – cats adopted from the local animal shelter. She regales this writer with the tale of Woody's disappearance, when the cat ran away and "I was a basket case." After a month, Alt tracked down a woman who had seen a cat resembling Woody around her house. "I'd just come home from a bridal shower and was wearing a linen suit, walking up and down the road where this woman lives in the pouring rain, screaming for my cat." The upshot of the story is that, the week before Alt found Woody, she and her husband adopted two shelter kittens from the same litter; Max and Simon are mirror-image twins, similar in markings to the First Family's cat, Socks. "Max is the troublemaker," Alt says affectionately. "Woody is just the sweetest little thing, and Simon cannot get enough attention."
Animals have always been a part of Alt's life. "My father was a battalion chief with the South Bronx Fire Department, and at one time, we had a rabbit named Sooty, an Irish Setter named Flame and a Siamese cat named Smokey. We're big animal people."
Her passion about animals, though, extends far beyond simply caring for pets. Alt says that, while she took horseback riding lessons over an extended period of time, she gave up riding completely when she saw how the schools' horses were overworked. "They are out there over and over again with riders on them in the hot sun." Likewise, although she and Steven are fans of the Triple Crown, "Whenever they start hitting the horse to make it go faster, I can't watch. They're beating that horse so we can be entertained."
The lacto-ovo vegetarian states forthrightly, "Unfortunately, I made the mistake years ago of not having an opinion, and I have a fur coat that sits in my closet as a reminder to me of the mistake I made." While she's not an animal rights activist per se, her passion about animals is deeply felt. "One day, I would love to buy a big farm, and open up all the animal shelters and take care of all the animals," she says.
The Girl Next Door
Beneath Alt's strong feelings about the community of plus-size women and her passion about animals lies a woman who comes across as having her head sitting squarely atop her shoulders. Given that hers is an industry based in illusion and one where insiders can be mistaken for chameleons, Alt is surprisingly clear on who she is and where she came from. She attributes this to coming from "a happy, well-adjusted family."
This family is also her inspiration. "My mother was able to raise four children, complete college and work full-time. My father's men looked up to him. They said he was tough but he was fair." While she was raised as a Roman Catholic, she says that her parents taught her about helping people in need and respecting people. "If they're in distress and you can help, you give them the shirt off your back. If they're not like you, you accept them for their differences."
The moral fiber instilled in Alt by her parents has affected her life and career in many ways. "I had my real estate license for awhile, but it wasn't a good experience for me," she recalls. "My mother brought me up to be honest and moral, and when you're working for commission, people lie to you and tell you the things you want to hear."
Although her father passed away in 1983, Alt and her family remain close. "We're very close spiritually, though logistically we're not." Her sister, Karen, lives about two hours away from Alt, while her sister Carol lives in California. Her brother, xxxxxx, is only a half hour away, though he used to live in New Zealand. "That was a nightmare," she exclaims. Her in-laws and her mother live within a mile or two of Alt's home. "My mother has become a friend," Alt says with emotion. "She helps me sort out my feelings, but she doesn't come right out and say what I should do."
At home, Alt plays it casual. "My husband is very much a homebody," she laughs. "We invested in a DVD player, so we're big movie watchers." According to Alt, they're also avid magazine readers. And having bought a fixer-upper before their marriage, Christine and Steven also spend a lot of time puttering around the house. "We never went on a honeymoon," Alt reveals. "Since it's where we'll spend the rest of our lives, we decided to put our money into the house, instead of looking at photos in an album."
On weekends, the couple might be spotted driving by the grand mansions of Long Island, shopping at a local farm for fresh fruits and vegetables, or taking in the local dog or cat show. Whatever they do in their leisure time, it's a sure bet that it'll be close to home. "With traveling so much for business, I don't like air travel for pleasure," she says.
There's another side to Alt that is both playful and down-to-earth. She shuns a regimented fitness program, preferring to "incorporate exercise into my everyday routine." When she's working, she'll take the stairs rather than the elevator or walk instead of taking a cab. But at home, Alt might have a hammer in hand, working with her husband to finish the basement in their home. And while she doesn't care for gardening, "If you need a tree cut down, call me," she says with a laugh. "I like the real physical labor of doing something like that."
A favorite childhood hangout of Alt's was the apple tree in her parents' backyard. As she got older, her love of tree climbing never faltered. "I still, to this day, can look at a tree and say, 'This would be a great climbing tree." And her inner child gets to play with the other kids on the block from time to time. "I like getting on the lawn with the neighborhood kids and the neighborhood dog, rolling around on the grass," she laughs.
Beauty, brains, ethics and good humor. Christine Alt is the All-American Girl, with a twist. She's using the gifts she's been given, and those that she's earned, to make the world a better place for plus-size women. But come to think of it, what could be more American?
Q & A with BBW
BBW: What's the most fun, funky item in your closet right now, and when was the last time you wore it?
CA: Every season it changes. Right now it's a pair of black stretch Capri pants from Nordstrom. I wear them at least once a week.
BBW: If you were Chief of the Fashion Police, what would you outlaw?
CA: Mini skirts and cropped tops. Enough said.
BBW: If, for the remainder of your life, you were only allowed to watch three videos, which three would you choose?
CA: "A Christmas Carol," "A Bug's Life" and "The Usual Suspects"
BBW: What legacy do you want to leave the world?
CA: I would like to encourage a world where there is no distinction or separation between "regular size" and "plus size."
BBW: If you were to design on article of clothing that most truly reflected your personality, what would it look like?
CA: A pair of cotton Disney pajamas!
BBW: Where do you want to be on December 31, 1999 at 11:59 p.m.?
CA: At home with my husband and cats, sharing a bottle of good champagne. (No champagne for the cats, though!)
BBW: What's your most treasured childhood possession that you still have?
CA: A medallion of the Mother Mary that was given to me by my great, great Uncle Eugene for my Baptism.
This article originally appeared in a 1999 edition of the print magazine.